Bar
WOW!
Olewnik Sp. z o.o. at the end of April completed the project titled "Research and development work on a group of innovative meat and meat products". research and development on a group of innovative meat and vegetable products and on elements of proprietary technology for their production, allowing the implementation of a new class of snacks of the food type on the market convenience foods.
The company Olewnik, one of the leaders of the meat industry in Poland, has completed the ongoing from the beginning of the 2021 project carried out with the support of the National Research and Development Center. W its result has been product innovation on a global scale, and the company has once again underlined its leading position among industry innovators. The project was co-financed by the European Union with funds from the European Fund for Regional Development Fund as part of the Intelligent Development Operational Program and implemented under the "Fast Track" competition of the National Research and Development Center. It included conducting research and development work on new product groups, while its goal was to develop innovative and functional meat and vegetable and plant-based products. This clearly demonstrates the direction of the brand's offerings and our approach to innovative products. We are not afraid to go beyond stereotypes, we want to be innovative, we want to open up to the new consumer and offer them products tailored to his needs," says Anna Olewnik-Mikołajewska, CEO of Olewnik Sp. z o.o. The effects of cooperation with a scientific unit - NCRD - are excellent. As a result of them, soon on the market will appear, meat and vegetable snacks, the advantages of which are primarily primarily low in fat, high in protein and fiber. Our new products are the only of their kind on the market, a unique and balanced combination of of high quality meat and vegetable ingredients, grains and groats, is a guarantee of excellent taste. This is a perfect daily snack for everyone and for any time of the day. It is an offer for quality-conscious and quality-sensitive consumers, whose number is growing steadily and dynamically growing.
With the addition of tofu, shelled sunflower seeds, pumpkin seeds, chickpeas, flaxseed, dried vegetables and chia seeds.
High in dietary fiber. Source of protein.
Source of vitamin B1. Source of iron, magnesium and zinc. WOW, BUT A SNACK!!! Translated with www.DeepL.com/Translator (free version)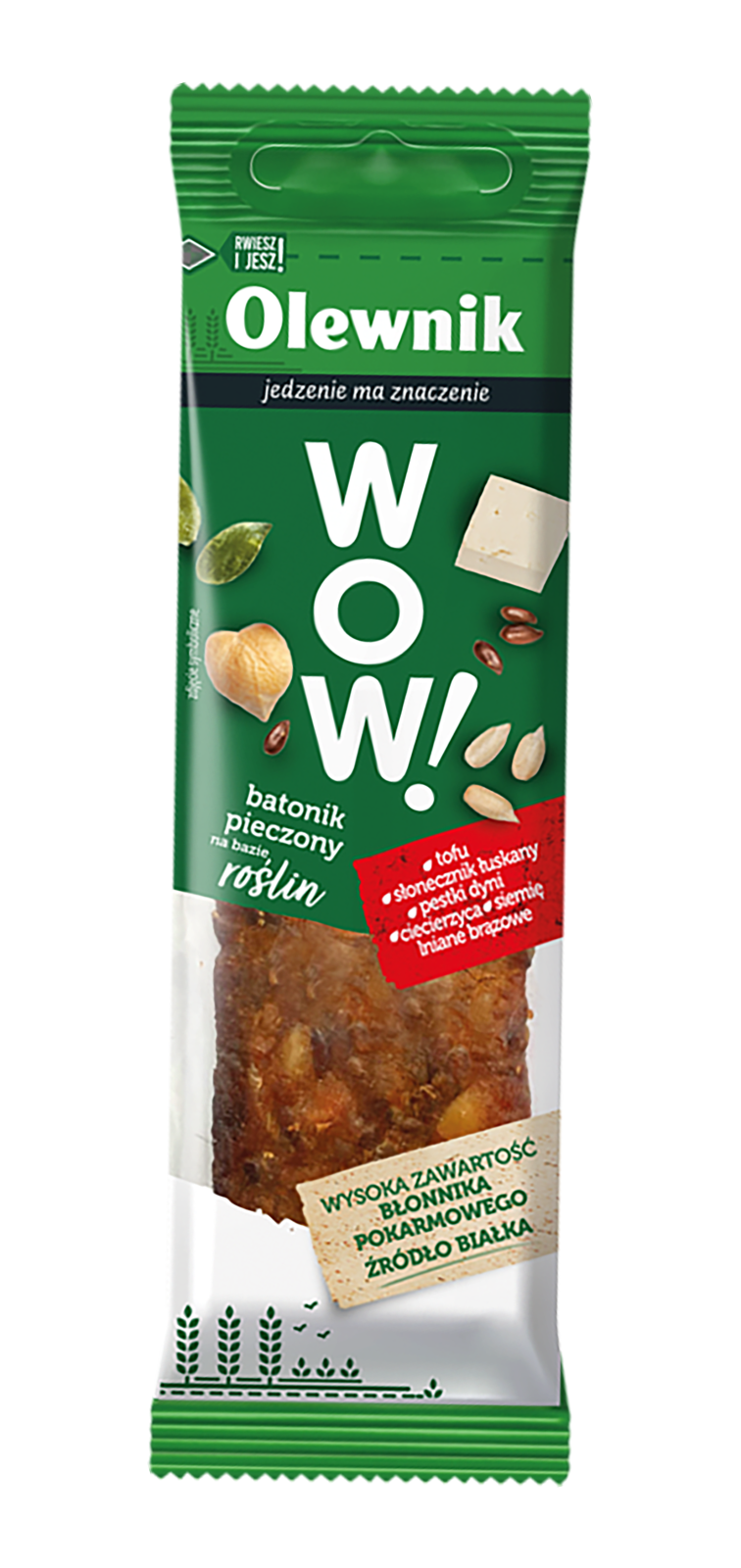 WARTOŚĆ
ENERGETYCZNA
KJ/KCAL
TŁUSZCZ (G)
W TYM KWASY
TŁUSZCZOWE
NASYCONE (G)
WĘGLOWODANY(G)
W TYM CUKRY (G)
BŁONNIK (G)
BIAŁKO (G)
SÓL (G)
0,00
0,00
0,00
0,00
0,00
0,00
0,00
0,00